Chronic Christmas Goodies
I've mentioned before how very much I love the cover for my new book Chronic Christmas: Surviving the Holidays with a Chronic Illness. It makes me giggle. It makes other people giggle.
So I decided to have some fun with it and created a pile of products using elements of the image. Best of all, they are useful products that can help you connect to the spirit of the season. And which might make you giggle and hat's always a good thing!
More than once in the book, I mention having a drink of something hot. And what better way Christmas mug? There are two of them. The first is what I call the Christmas Bliss mug
And the Chronic Christmas mug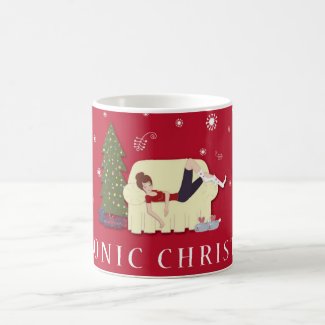 Chronic Christmas Mug
by TheSeatedView
Do you want to keep track of all the things you are doing (and not doing) to make this an enjoyable season? Why not use the Chronic Christmas notebook? You can also keep track of gifts, or use as a journal to record your thoughts about the holidays and how to get to reasonable so you can feel better.
There are tops of various styles, excellent for wearing as you curl up on the couch with that cup of something yummy and ignore the to-do list
You can also get tank tops for your Christmas PJ outfit. They also work well for wearing under sweaters as a secret reminder to breathe deeply and enjoy yourself.
But wait! There's more! (Why do I feel like an infomercial all of a sudden?)
I had a lot of fun making these ornaments, which are wonderfully non-chronic illness specific, but can be something that makes you smile for a reason no one else understands.
the ornament is also available with the Chronic Christmas Bliss image
A line of Christmas goodies also needs cards and tags, doesn't it?
and for the end of the day, when you're tired but happy (or still working on getting happy), here's a Christmas Hygge pillow to help you get comfortable
You can see them all in the Chronic Christmas area of The Shop.